Czas czytania: do 7 minut
Planning to embark on your dropshipping adventure? You're in the right place! In today's article, we'll introduce you to 13 incredibly useful tools that will help you build and grow your online business.
What is dropshipping?
Before we dive into discussing specific tools, it's important to first understand what dropshipping is. Dropshipping is a business model in which the seller doesn't physically stock products but directs orders to a wholesaler or manufacturer who ships them directly to the customer.
This eliminates the need for storing, packaging, and shipping products. It's a great option for individuals looking to start their online store without a substantial initial capital.
What are the best tools for dropshipping?
Find products with Droplo
The first tool you should be aware of is Droplo. This platform enables you to discover products from suppliers involved in dropshipping. You can also easily import these products into your online store. With Droplo, you'll save a lot of time and effort that you would otherwise spend manually searching and comparing products.
Droplo is an incredibly useful tool for any entrepreneur. It allows you to find products from various industries, such as electronics, clothing, cosmetics, or household items. Regardless of what you're looking for, Droplo will help you find the best deals and suppliers.
Searching for products is extremely straightforward. Simply enter the name of the product you're interested in, and the platform will display a list of available options. You can also filter the results based on various criteria like price, return policy, dropshipping compatibility, or shipping country. This way, you can find products that best fit your needs and budget.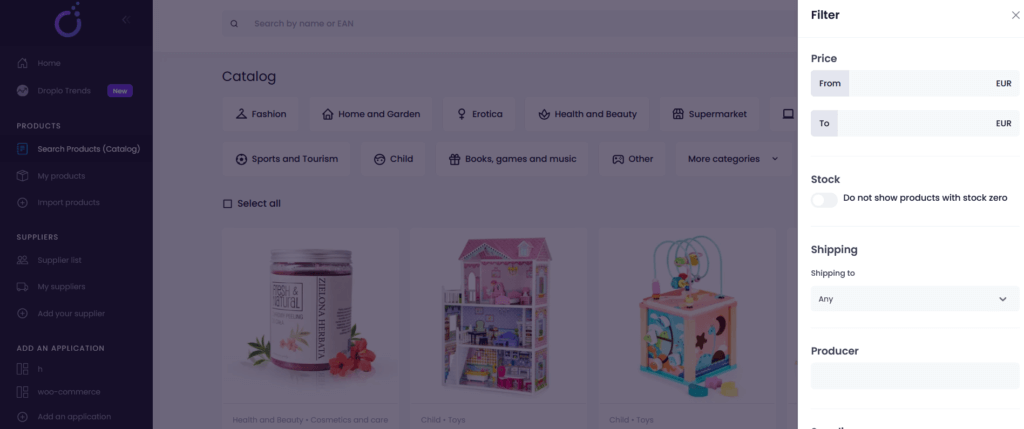 One of the greatest advantages of the platform is the Droplo Trends service. It allows for the quick and easy discovery of products in your industry based on sales data and the unique quality scale of "Droplo Rating." This enables you to find products that simply sell, based on real data.

Droplo is an indispensable tool for anyone looking to find products at the best prices and from trusted suppliers. With this tool, you'll save time and effort that can be better utilized in other areas of your business. Don't wait any longer, start using Droplo today and see how much you can gain!
Find keywords for offers and campaigns on Google Keyword Planner
With Google Keyword Planner, you can precisely tailor your offers and campaigns to the expectations of potential customers.
This tool not only helps you discover popular phrases related to your products but also provides valuable information about competition and estimated search volumes.
By using Google Keyword Planner, you can better understand which keywords are most attractive to your business, enabling more effective promotion of products and increased visibility among potential customers
Jungle Scout – Analyze the Amazon Market
Jungle Scout will help you identify the most popular products sold on Amazon. You can track product sales over 12 months and expand your brand with the most profitable products in your niche.
AI Assistant will assist you in analyzing bulk reviews, crafting Amazon ad content, and even generating comprehensive financial reports while answering business inquiries. Additionally, the platform allows for order tracking, ensuring your customers are always informed about the status of their purchases.
Minea – Analyze Marketing Strategies on Social Media
Many dropshippers leverage social media as their primary tool for promoting products and services. Minea is a tool designed to assist you in analyzing and evaluating the effectiveness of your social media marketing efforts. This way, you can identify which strategies work best and concentrate your efforts in those areas. The platform offers a wide range of features for detailed data analysis, including an advanced ad library, user engagement, and conversion metrics.
Analyzing social media marketing strategies is crucial as it allows for a better understanding of the preferences and behaviors of your target audience. This knowledge enables you to tailor your content and communication to better resonate with potential customers. Minea provides the necessary tools for such analysis and aids in making strategic decisions regarding your digital marketing on social media.
Create an Online Store with Redcart
Redcart is a Polish e-commerce platform that enables the quick and easy creation of online stores. With ready-made templates and a user-friendly interface, you can give your store a professional look in just a few moments. Redcart also offers various functionalities, including online payment integrations, SEO tools, and technical support.
Building an online store can be a complex process, but with Redcart, everything becomes simpler. The platform provides a wide selection of ready-made templates that can be customized to fit your needs. You don't need to have programming or design skills to create a professionally looking store. All you need is a few clicks, and you're good to go!
If you dream of having your own online store but don't know where to start, Redcart is the perfect solution for you. With Redcart, you can quickly and easily create a professional store that attracts customers and helps you achieve success in online sales.
As of now, the platform is available in Polish only.
WooCommerce – Transform Your WordPress Site into an Online Store
If you already have a WordPress-based website, WooCommerce is the perfect tool for you. This free plugin allows you to turn your site into an online store in just a few simple steps.
WooCommerce offers various features, including payment processing, product management, creation of discount coupons, and much more.
Canva – Graphics Without Experience
Graphics are an essential element of marketing in today's times. If you lack experience in graphic design, Canva is the perfect tool for you.
This free platform allows you to create professional graphics without the need for graphic design skills. You can design logos, advertising banners, social media posts, and much more.
Waving Pandas – Create Video Ads
Video ads are one of the most effective forms of online advertising. If you want to create professional video ads without hiring a specialist, Waving Pandas can help you with that.
This platform allows you to create animated video ads in an easy and intuitive way. This way, you can capture the attention of potential customers and boost the sales of your products.
Google Analytics 4 – Analyze Your Website Data
Data analysis is crucial for effectively managing an online business. Google Analytics 4 is the latest tool that allows you to track traffic on your site, analyze user behavior, and monitor the effectiveness of marketing campaigns. With this information, you can tailor your actions to meet customer needs and increase your profits.
Hotjar
To ensure the best user experience for your customers, it's valuable to understand how they interact with your website. For this purpose, you can use a tool like Hotjar.
This platform allows you to record user sessions, analyze heatmaps, and conduct surveys. This way, you'll be able to better understand the needs and expectations of your customers and tailor your website to meet their requirements.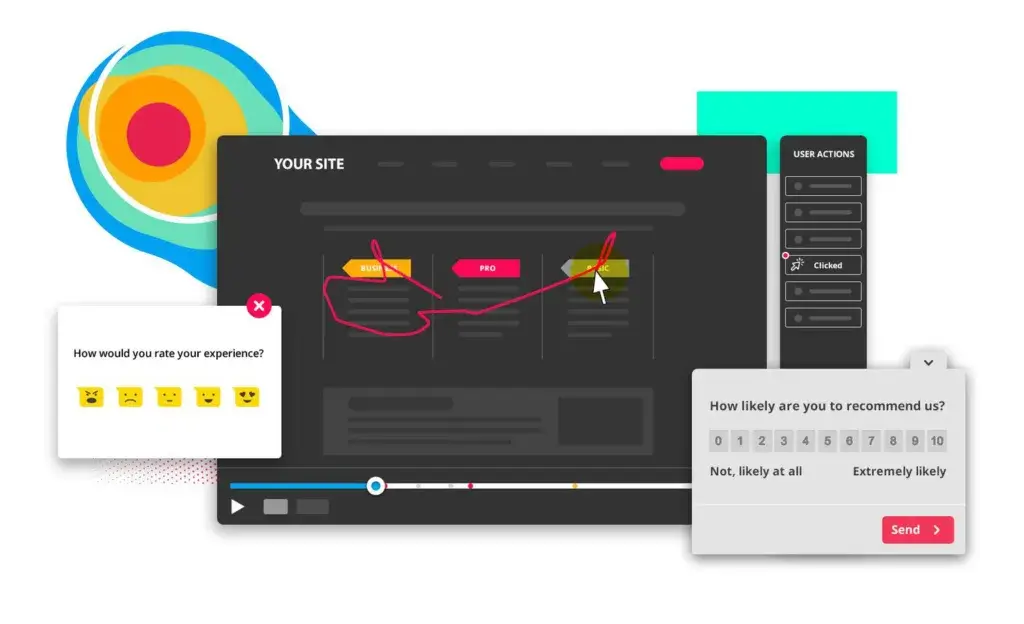 Google Lens
Google Lens is a tool that allows you to search for products using images. Just take a picture of the item you're interested in, and Google Lens will show you similar products along with information about them. This makes it easy for you to find products you want to sell and compare their prices and reviews.
ChargeFlow – Payment and Chargeback Management
Managing payments and chargebacks is a crucial aspect of running a dropshipping business. That's why it's worth exploring tools like ChargeFlow.
It allows for easy payment management, transaction monitoring, and resolving issues related to chargebacks. This way, you can avoid unnecessary troubles and focus on growing your business.
Zonos – Simplifying International Shipping
Don't wait any longer – start using these incredibly useful tools today! With them, you'll be able to build and grow your dropshipping platform more efficiently and productively. Remember, effective management, data analysis, and promotion are the keys to success in dropshipping. Good luck!