Czas czytania: do 7 minut
The internet has changed the game of commerce – the buying and selling of goods and services. Instead of stressful window shopping experiences, customers can sit comfortably and browse through product catalogues and make informed decisions. This change has also seeped into the world of business to business commerce. Companies and business owners who preferred to meet and look their business partners square in the eye to know if they're trustworthy, are now appreciating the ease of use of e-commerce, taking advantage of its limitless possibilities and cost savings
What is B2B E-commerce?
B2B stands for business to business. B2B e-commerce is simply the sales and purchase of goods and services between businesses using electronic means such as the internet. This is in contrast to B2C e-commerce which occurs between businesses and direct customers or consumers.
B2B e-commerce occurs on the supply chain. Businesses may need to purchase raw materials, and distribute them to people who would sell them to consumers. It involves manufacturers, wholesalers, distributors and retailers.
Manufacturers – Wholesalers – Distributors – Retailers
This is known as the supply chain. All of the above may not be involved in the supply chain all the time. For example, a retailer, which is a person who sells products to individual customers, may buy goods directly from the manufacturer, and bypass the wholesaler and distributor parts of the supply chain. This is still B2B commerce.
Doing B2B business online has surely transformed the B2B commerce industry. Instead of endless bureaucratic meetings and travels, companies can simply learn about other businesses online, through regular websites or e-procurement sites, have access to product catalogues and start a purchase process. Price settlements and dropshipping processes can also be concluded online.
There has been a steady growth and evolution of B2B e-commerce. From trading on simple e-commerce platforms to full marketplaces with lots of integrations and data synchronization, making the B2B market more seamless. The B2B e-commerce industry is estimated to be worth trillions of naira, and this amount is expected to double before 2030.
Features of B2B E-commerce
Unlike Business to Consumer (B2C) commerce or marketing, B2B commerce has the following important features:
Large scale Transactions: Businesses in B2B markets are looking to either manufacture a product or resell, and so the transactions are usually large-scale, involving large amounts of money as compared to B2C businesses.
Decision-making in B2B markets is more complex, planned and logical. Purchases are made with lots of factors put into consideration, and long meetings may be required to come to an agreeable conclusion. There are also many decision makers. This means that businesses in the B2B space have to be authentic, and trustworthy in order to sell, because the emotive part of purchasing is usually eliminated.
Long Buying Cycles: Negotiations between businesses could take months, depending on the decision of the decision makers in the business, prolonging the buying cycle much more than that of the B2C businesses.
How to Get Started with B2B E-commerce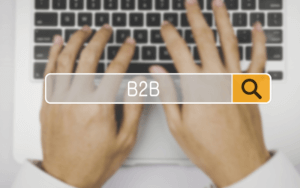 If you are new to the B2B e-commerce space, and you're looking to startup your business idea,  here are some factors to consider:
1.Determine the type of B2B e-commerce you'd be going into: There are different types of B2B e-commerce. You would have to decide if you'd be a producer/manufacturer, a distributor, a wholesaler or a retailer. This would influence your business plan and market positioning.
2. Outline your business goals and customer needs: This goes with saying. Your business goals are the driving force of your business, and you have to be sure that you are addressing your customer's needs at every point in time. You have to ensure that your B2B plan and strategy targets the right audience.
3. Choose an e-commerce platform: E-commerce platforms are softwares that enable the buying and selling of goods over the internet. They can be subscription based, open-source or headless e-commerce platforms. In present times, it is practically impossible to do B2B e-commerce without using these platforms. They have a lot of features which help businesses streamline the trading process.
Choosing a Suitable E-commerce Platform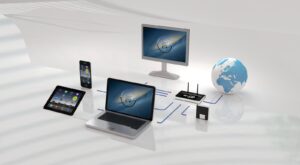 Choosing a B2B e-commerce platform is one of the most important decisions you'd make. B2B businesses thrive on relationship and customer experience, much like B2C customers, and even more. Those who make important decisions in B2B marketing have a lot of things going on in their lives and businesses, and wouldn't want to settle for a platform that would make things more difficult than they already are.
There are many factors to consider when choosing a B2B platform, but we will talk about some very important ones, and share what you should look out for when considering each of these factors.
Easy to Use and Flexible
Data Synchronization and Store Integration
Pricing and Invoicing
Shipments
Order and Inventory Management
Easy to Use and Flexible
An ecommerce platform should be easy to use, mobile-friendly, optimised for users and easy to navigate. Customers should be able to find products easily, products should be displayed in attractive styles or layouts. Product recommendations based on previously ordered products, or display or previously ordered products are some important features that make reordering on a B2B e-commerce platform very easy.
On your own end, it should be easy for you to customise the software to suit your customer's needs, and provide solutions based on feedback. It should also be easy to upgrade.
Droplo, a top rated B2B e-commerce platform has scored points for being very easy to use and having an excellent user interface, allowing business owners to set up their stores in five minutes, with customisations to suit customers.
Store Integration and Data Synchronization
A good B2B e-commerce platform should be able to interact with other third party software which are useful for e-commerce. Softwares such as analytics, social media, accounting, advertising and enterprise resource planning softwares are useful, and the ability to use them all in one place is a huge plus.
Good B2B platform should also offer seamless data synchronization, which means automatic and fast updates on your product features, data, prices and availability. This is so customers are informed about the state of your store at every point; available products, out of stock products and product upgrades.
On the Droplo platform, you will find thousands of manufacturers, suppliers and wholesalers. This is useful for suppliers as it means they can expand their sales market. For wholesalers and retailers, it means it would be easy to choose from the variety of places and products without jumping websites, as there are suppliers from almost every industry on the Droplo platform.
Store integration is fast and Droplo's automated marketing feature makes it easy to assign categories and prices to all products.You can integrate your store with other third party software as previously mentioned. Online store integration with manufacturers, wholesalers or marketplaces such as Allegro is also possible. This makes it easy to access product offers and learn about the products each supplier currently has.
On data synchronization, Droplo has features such as; hourly data synchronization, automatic completion of information about shipping, returns, mass management of up to 200 offers at the same time, the possibility to create sets, discounts or multi-variant offers. This makes it easy to update your store information without manually uploading files.
Pricing and Invoicing
Custom pricing is the best form of pricing on any B2B e-commerce platform. This enables prices to change based on volume of order, earned coupon codes, taxation, discounts and subscriptions. Currency and exchange rates should also be considered.
A good B2B platform would be able to handle all these functions without you having to suffer to crunch numbers.
Shipments
After rummaging through your site and finally placing an order for your products, you still have one last barrel to fight before you can finally close a sales deal; checkout details on shipping. The features on your e-commerce platform for shipping determine a lot about whether your customer would proceed to make a purchase or not. Sites without proper shipping details and product tracking features usually lose customers.
Apart from regular shipment management, Droplo enables dropshipping, which is very popular with businesses that are just starting out because of the low capital requirement.
Droplo simplifies most dropshipping processes, automating integration and data synchronization between wholesalers and stores. You would be able to verify prices fast and confirm availability of goods to your customers without wasting time. These products can also be added to your store easily with the price you want to sell the good at.
Order and Inventory Management
These are also important features on any B2B e-commerce platform. You should be able to know how much stock you have in your warehouse, manage all orders from all channels and storefronts in one place.
Droplo's automated integration system makes it another favourite for B2B businesses to manage their inventory.
Conclusion
When starting out in B2B e-commerce, it is important to define your audience and business goals. It is also important to use high standard ecommerce platforms like Droplo that is committed to automating and simplifying the world of  B2B e-commerce.