Czas czytania: do 1 minut
Connect with IdoSell
If you already sell by the IdoSell platform, there are only a few steps to connect your seller account with Droplo:
Go to the Integrations card (1) and click "Connect" in the IdoSell card (2).

A new window will be displayed asking you to enter the name of the integration. From now on, the new integration will be named in Droplo as you wished, and listed in the left menu below the integrations' category.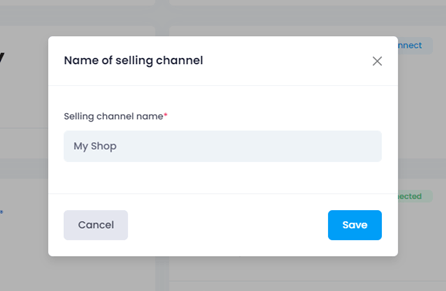 A new window will appear allowing you to set the connection with IdoSell. Fill in blank spaces (3) with the IdoSell authorisation data:
IdoSell domain address (for example: https://www.yourshop.com)
IdoSell login
IdoSell password
Next, click on "Connect" to save the inserted data and make a connection with IdoSell account. You will be transferred to IdoSell Exporter App by Droplo where you can easily configure the integration parameters such as:
Global price markup (1)
Price currency (2)
Price and stock synchronisation (3)
Export language (4)
Tax value (5)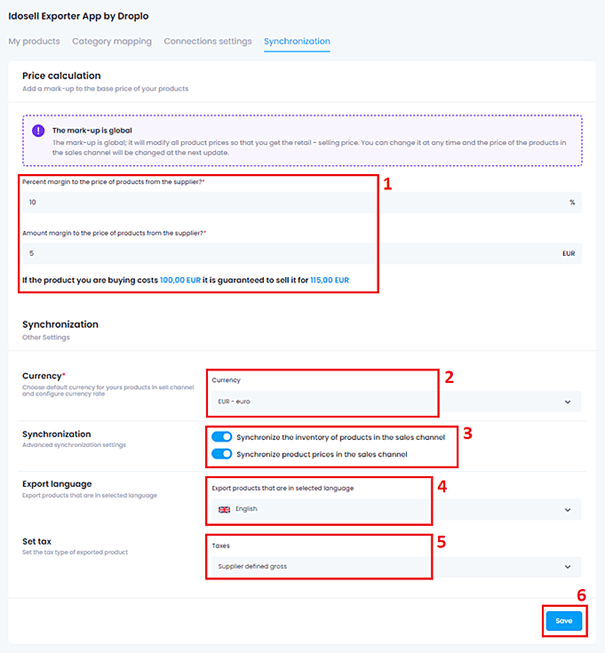 When you finish the configuration, click on "Save" button (6).
If you already created categories in your IdoSell store, you need to map those categories with Droplo before exporting the products to your store.
Go to the Categories Mapping card (1) and assign the most relative option that fits the categories in.
When you finish assigning every category from the list (2) then click "Save" (3).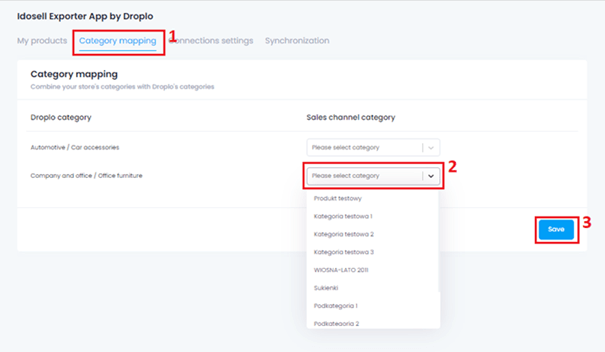 Now you can activate supplier's offer and save products from the catalogue into "My products" card.
Those products can be then exported to your online store.