Czas czytania: do 3 minut
Dashboard & Menu (Retailer)
Let's explore the interface of Droplo!
After successful log-in, we are being transferred to the Retailer Dashboard, with a drop-down menu on the left (1). This menu shows us 3 categories for possible actions:
Products: Product Catalog, My Products, Import products
Suppliers: Supplier list, My Suppliers
Applications: here you can create and manage each one of your e-store integrations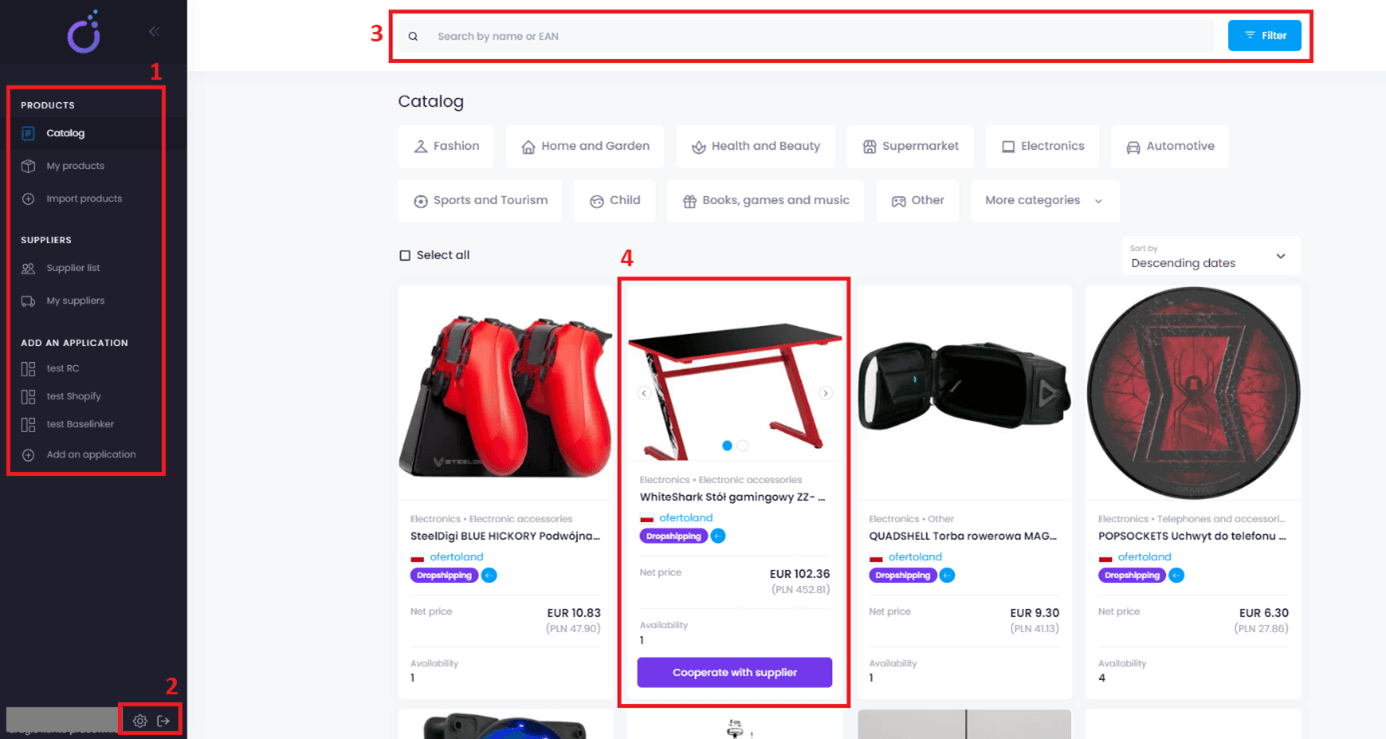 Below there is a quick user menu (2), which allows us to open an account settings tab or to quickly log-out from the platform.
A. Products
Products catalog
In this tab, we can search for products by their names and EAN codes (3), as well as filter all products in the Droplo database based on criteria such as price, manufacturer, delivery countries, return options, and even whether they are available in Dropshipping.
If you are interested in a specific supplier from Droplo, you can also select it in the filter menu from the drop-down list.


In each product card, under the name of the supplier, we've added coloured labels to make browsing the products even easier (1). After hovering over any label, information will be displayed. Here are the 2 main labels:
Dropshipping – tells if the supplier sells via Dropshipping model
Returns – shows if returns are possible and in what time
Every product from the catalogue can be viewed for more details by clicking on the product card (4).
The product will be displayed in a new window with more detailed description. In this window we can check for example if there is any logistic minimum for placing an order or what is the current stock level.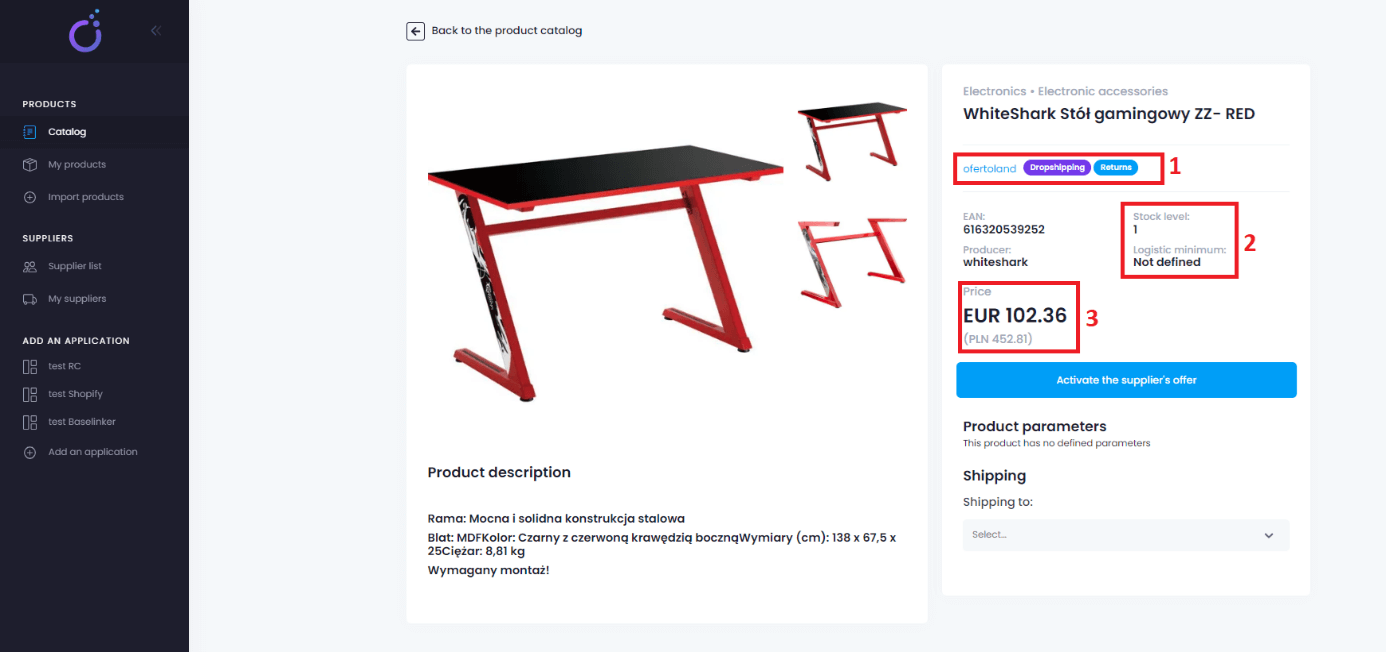 My Products
Every product from the catalogue can be added to your storage. "My products" tab was created for this purpose.
From this tab you can view and customize the product offer, and then by few clicks publish it in your store.
Additionally, just like in the main catalogue, we can set a filter and search by typing products by name or EAN code.
Important! All of the product prices in Droplo are net prices (without tax). 
Most often, the prices refer to one piece of the product, but there may also be multipacks. To avoid unnecessary complications, we recommend reading detailed product descriptions.

Import products
You are able to upload external suppliers offers into Droplo using an XML formatted file. If you want to import an external offer, go to the tab called "Import products".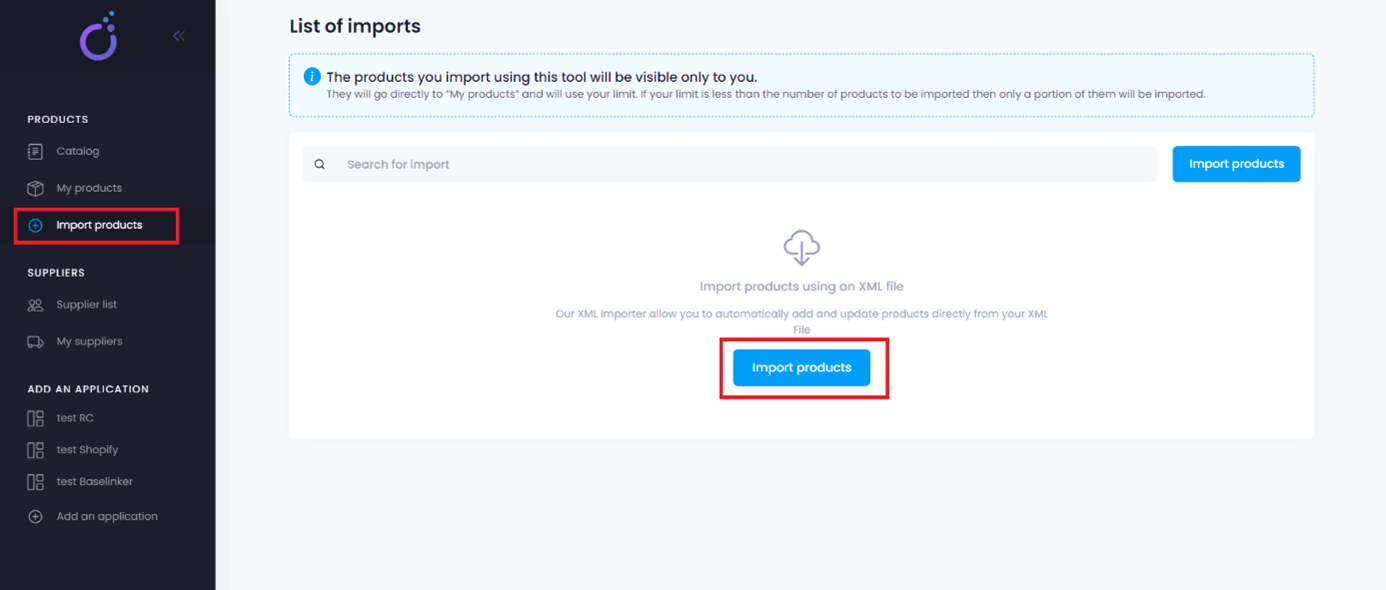 In another guide, you can find out how to properly import products through the Droplo Importer.
B. Suppliers
Suppliers list
Let's dive into the second category from the Droplo main menu – the suppliers list. On this page we can search the suppliers which were pre-checked by Droplo, so you can be sure that your business will expand its offer with only proven sources. Search them by name (1) or browse them by categories of offered products (2).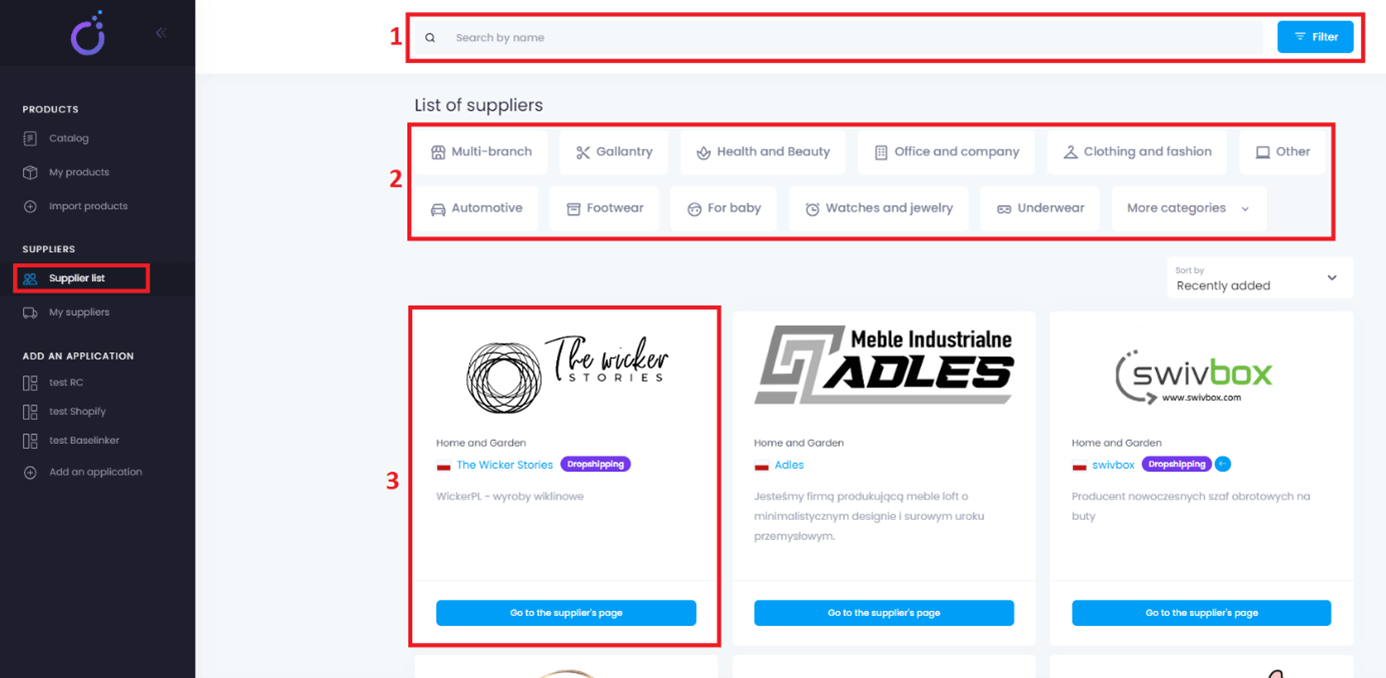 We also have several filters for your disposal. You can search by selecting the shipping country as well as the delivery country. You can also check for the Dropshipping or returns options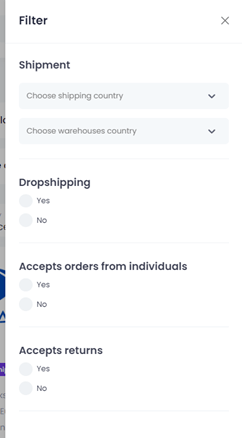 Each supplier is represented in the list as a single tile (3). After clicking on the selected logo, you will be redirected to the supplier's window, containing a business description and full catalogue of products and required terms for cooperation.
My suppliers
Each supplier must first be activated. Once a supplier activates an offer in Droplo at your request, you will be able to add their products to your list.
Suppliers are displayed in the "My Suppliers" tab once you send a request to a supplier to activate an offer.

C. Applications
In the last, but no less important category, you can choose an application to connect your store with Droplo.
To do this, select the available integration and follow the instructions.

Check out our step-by-step integration tutorials for each platform that will help you to connect your store with Droplo in a quick and easy way. Connect now with:
RedCart
Shopify
IdoSell
Shoper
Baselinker
WooCommerce
If you still have some problems with the connection, please write to us at help@droplo.com.
We'll find out what's the problem, and help you solve it 🙂