Czas czytania: do 1 minut
Connect with Baselinker
If you want to connect your Baselinker account with Droplo, the only data that you need is an API token, which can be generated in the Baselinker Account Settings.
Just open your Baselinker admin panel and click on your account icon (1). Next, go to "My account" tab (2).
From the horizontal menu, choose the API card. Your API token should be displayed below (4).

When you obtain the API from Baselinker go to the Integrations window and click "Add" in the Baselinker card.

You should now see the connection setting menu. Place the Baselinker API token (1) in the designated space and click "Connect" (2).

After successful connection you will be transferred to the Baselinker Exporter App by Droplo, where you can easily configure the integration parameters such as:
Global price markup (1)
Price currency (2)
Price and stock synchronisation (3)
Destination warehouse (4)
Pricing group (5)
Export language (6)
Tax value (7)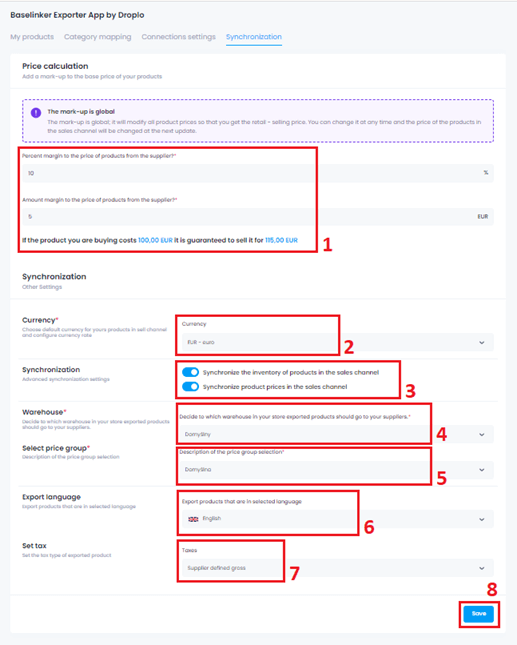 When you finish the configuration, click on "Save" button (8).
If you already have categories created in Baselinker, you need to map those categories with Droplo before exporting the products to this sales channel.
Go to the Categories Mapping card (1) and assign the most relative option that fits the categories in.
When you finish assigning every category from the list (2) then click "Save" (3).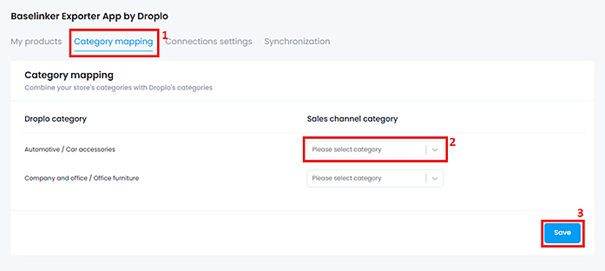 Now you can activate supplier's offer and save products from the catalogue into "My products" card.
Those products can be then exported to your online store.